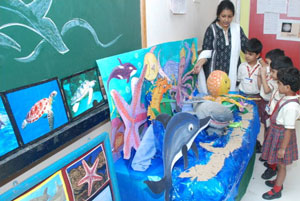 The academic atmosphere at the Indian Education society ORION is a rare blend of modern day technical skills and the traditional emphasis on imparting knowledge. The rigors of academic study at each level are balanced with a number of other related activities which include co-curricular and extra-curricular activities. Tests are conducted periodically and examinations are held at the end of every school term. Students are evaluated on a continuous basis throughout the semester.
The purpose of evaluation is mainly to identify the strengths and weaknesses of the children and take appropriate action. At Indian Education Society ORION, careful monitoring of the child's progress is done through continuous and consistent observation. We always looking for innovative ways to motivate and support student learning.
---
To develop students with a "can-do attitude" and who can focus on improvement and raising achievement.
An institution with difference, building progressive thinkers and to create a safe, secured, valued environment directing to an ambitious, challenging and ongoing future.
Quick Links